At this time in history, people need certainty and connection. Community is part of our survival strategy. In response to the pandemic lockdowns, Pushworth has created an exclusive new service – MUSIC …THE US IN YOUR BUSINESS.
Advertising companies have applied this principle with success for decades.
Music Sells.
Music brings people together.
Music attracts customers.
In August 2020 we launched this service with the Resilience Tour in partnership with Australian Venue Co, the Mental Awareness Foundation and Jade Holland. This tour brought a series of concerts throughout Regional Queensland with a focus of rebuilding and reconnecting local communities.
Call Manny on 07 3124 4051 or email [email protected] to know more
Photo thanks to Venus Envy and the Victory Hotel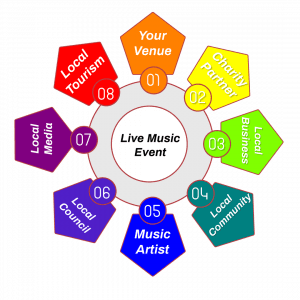 Thank you Manny and the Pushworth Group! During the devastating bushfires at the start of the year, I had an idea to host an appeal to raise money for our southern neighbours. With very short notice, we created the Redlands Relief Fire Charity Concert which was held on the 7th February. On contacting Manny, from the Pushworth Group, Manny coordinated headline acts to perform and together, we generated thousands of dollars that went directly to victims on Kangaroo Island. He even donated his time to attend the event, to ensure that everything went smoothly! I'd like to personally thank Manny, for his assistance, professionalism and enthusiasm. There is no doubt that without the Pushworth Group and Manny's help, the charity event wouldn't have been the success that it was.
Want To Know More? Contact Us