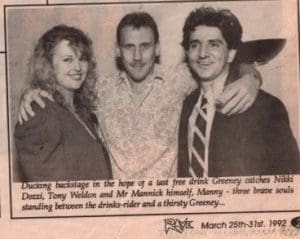 The Pushworth Group started out as Manick Promotions in July 1990 with my business partner, Emmanuel Kyriakidis and myself. Fast forward to 2021 and after 30 years, the same two directors own and operate Queensland's longest running Music Industry business.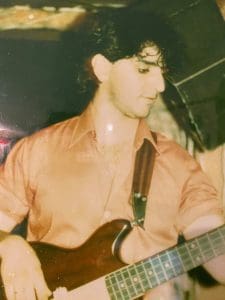 For Manny, always in trouble in and out of school and bored beyond belief, music kept him distracted and busy. Manny played double bass in orchestras as a kid, (got kicked out of the orchestra when he turned the instrument on its side and played it like a guitar) wrote and arranged for the Jazz bands at school, won Bass Player of the Year in 1984 at the Qld Rock Awards, and performed in several both notorious and forgettable bands in the burgeoning original music scene in Brisbane in the 80s. Once university finished, he toured the Queensland Circuit for several years until he ended up managing and booking it while working for Hutcho – the infamous Queensland agent of the 70s and 80s. `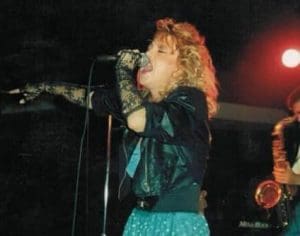 To contrast, I starting playing piano at the age of three, was the nerdy kid that accompanied eisteddfods and school assemblies, wrote the songs for weddings, funerals and ordinations at the local church, arranged the music for the school bands and the choirs and was accepted into the Conservatorium of Music at the age of 16. Two albums, several bands and thousands of gigs later, a finalist at the Qld Rock Awards, I morphed into the typical rock chick doing the Covers Circuit while dreaming about writing my books.
While gigging and touring, Manny would be replacing last minute blowouts and negotiating deals while I would be on stage assessing the crowd for security risks and planning photo shoots in my head while waking up in the middle of a song wondering what the hell I was singing – signs that the business side of the music industry was more important for each of us.
We are grateful for each opportunity and thankful for each challenge for the two created a healthy balance.  Yes, like most others in business, we would say "Thats it! We are done!" and another person would come along with a great idea and once again we were hooked.  
In this industry, we are all creating enterprise out of the music in someone's head which ends up being the soundtrack to someone else's life.
Seriously, how cool is that?
Thanks to the 2020 lockdowns which decimated so many music businesses across the globe, we feel just as excited about this industry as we did when we opened the doors in 1990. Looking forward to this next new chapter!