The days of tribute shows making fun of ABBA's music and Swedish accents are now in the past. ABBA's incredible genius and obviously timeless music have proven this Swedish supergroup deserve to be taken seriously. Never in the history of popular music has a group or artist been relived in such an astounding way from one generation to the next.
ABBALIVE refuses to be just another ABBA tribute show! Each of the team members are specialists in their respective instruments, not only in qualifications and performance, but in lecturing and teaching as well.
Over a six month period ABBALIVE meticulously dissected the songs of ABBA and carefully placed every note and magical harmony back together to create a brilliant replica of these wonderful songs. The team are constantly reassessing the songs and footage of the real group to ensure they stay as true to ABBA as possible.
ABBA were a 'clean cut' group with a respected image. ABBALIVE have the utmost respect for the image and status they portrayed and therefore replicate in every way possible the music, costumes, choreography, mannerisms, and even personalities of the REAL ABBA.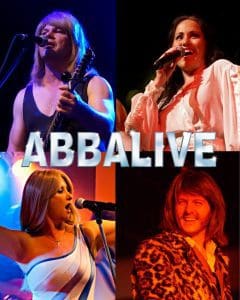 SONGLIST
BANG-A-BOOMERANG | CHIQUITITA | DANCING QUEEN | DOES YOUR MOTHER KNOW
FERNANDO | GIMME GIMME GIMME | HASTA MANANA HE IS YOUR BROTHER
HONEY HONEY | I DO I DO I DO I DO I DO | I HAVE A DREAM | INTERMEZZO
I'VE BEEN WAITING FOR YOU | KNOWING ME KNOWING YOU | LAY ALL YOUR LOVE ON ME
MAMMA MIA | MONEY MONEY MONEY | NAME OF THE GAME| NINA PRETTY BALLERINA
ONE OF US | PEOPLE NEED LOVE | RING RING| ROCK ME | SO LONG | SOS
SUMMER NIGHT CITY | SUPER TROUPER | TAKE A CHANCE ON ME | THANK YOU FOR THE MUSIC
THE WINNER TAKES IT ALL | TIGER | VOULEZ VOUS | WATERLOO
WHEN I KISSED THE TEACHER | WHY DID IT HAVE TO BE ME