When we hear the words, Extreme Weather Alert or Rain Event, these days, we all shudder. All except  Mark Colvin. He is the king of weather and probably is the only person we know to get excited over a moving coloured map on BOM. (but thats a whole other story). The impact of wet weather on a live music show cannot be underestimated. It's not just about what happens AT The gig. It's how you get there, load in and out safely and stay prepared for all that you need to consider for a rainy show day.
So let's start with your Equipment. Do you have Splash proof cable connectors (IP44) to mitigate potential rain exposure for outdoor shows in case it starts raining before you safely get all your equipment inside and out of the wet weather? How about PPE for you and  PPE for your equipment? Do you keep spare towels with your Gear just in case? What is your Equipmen Drying protocol? How about Non Slip Shoes or even boots to wear while loading in and out? Do you keep a Tarp in your vehicle just in case? You may be dry inside the venue, but you need to ensure your load in and out through the rain is safe. What is your West Weather Plan?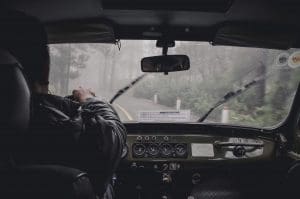 Even before you load your car to set off on your journey to get to the venue, do you have a check list for your vehicle that you routinely monitor to ensure you can safely transport yourself and your equipment to your show? Have you loaded the BOM app so you can stay ahead of the inclement weather? Have you loaded the RACQ app so you can plan the safest route to take to get to the gig and avoid potential flooding? Do you make sure you leave one hour earlier to get to your show on time? Wet Weather always seems to add another hour to your journey.
When you wrote up your SWMS, did you add a section for Wet Weather mitigation for your Load in/Load out practice to be safe, non slip and dry? When do you wipe down wet equipment and how long do you leave it to dry before it is safe to use?  If your show is outside, when do you engage with the Duty Manager to negotiate a move to a covered dry area for you to perform in?