Gather all your show assets before you commence. Write down all the information about the show that the fans will need to know. Make sure you add all onto the poster.
#Only use Vector Transparent.png files for your Photo and Logos.
Make sure you have different versions of your poster in:
Facebook Event size
Instagram
A4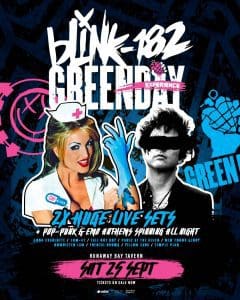 Every music genre has its own 'standard' when it comes to album and poster design. Their album design influences every other visual they create. If you sift through all the promotional material you can find from all kinds of artists, you tend to find common denominators, based (loosely) on the genres.
Use this understanding in album design to help you create better posters and promotions, based on your musical territory. The following list is not final edict for your design choices, but simply observable differences in aesthetics based on music genres:
Pop

The main singer is center focus, and the layout is based around that.
Natural colors, tilted slightly towards warmer colors.
Concert posters have the artist in focus, which is especially the case if the artist is famous. But this works for everyone, regardless of fame. Use makeup and image editing for a good shot.
Examples: Lana Del Ray, Taylor Swift and Florence and the Machine

Punk

Bright, often contrasting colors. Harsher visuals.
Mixed mediums often used, such as a face with crayon crosses on their eyes.
Some oddities use simplicity, such as a simple visual over a sandpaper texture.
Concert posters sport strange (often edgy) illustrations, cut up landscapes inspired from dadaist art with airbrushed fonts.
Examples: Blink-182, Swans, New Found Glory and Green Day.

Hip-hop

Like pop, the artist is center focus, with the album title on the side. Rougher around the edges.
Mix mediums with high text content, with a photo on the side (think 'Life of Pablo')
Some artists use photography to inspire and create a theme around social change, such as a picture of an unruly crowd or a van.
Concert posters for live events that show popular artist(s) in the front is a great hook for attendees.
Examples: J Cole, Kanye West and Kendrick Lamar.  

Rock

Rock is a broad generalization, with a large variety of music falling into this category.
If you're going old school, take a photo with your band mates and add some textures.
Illustrations are in with newer acts. Take an illustration, add your album and band name and you're all done.
Concert posters often sport illustrations as a backdrop to their schedules, or if they're a solo act, pictures of their own band.
Examples: Muse, Deep Purple, Poets of the Fall, Mastodon.