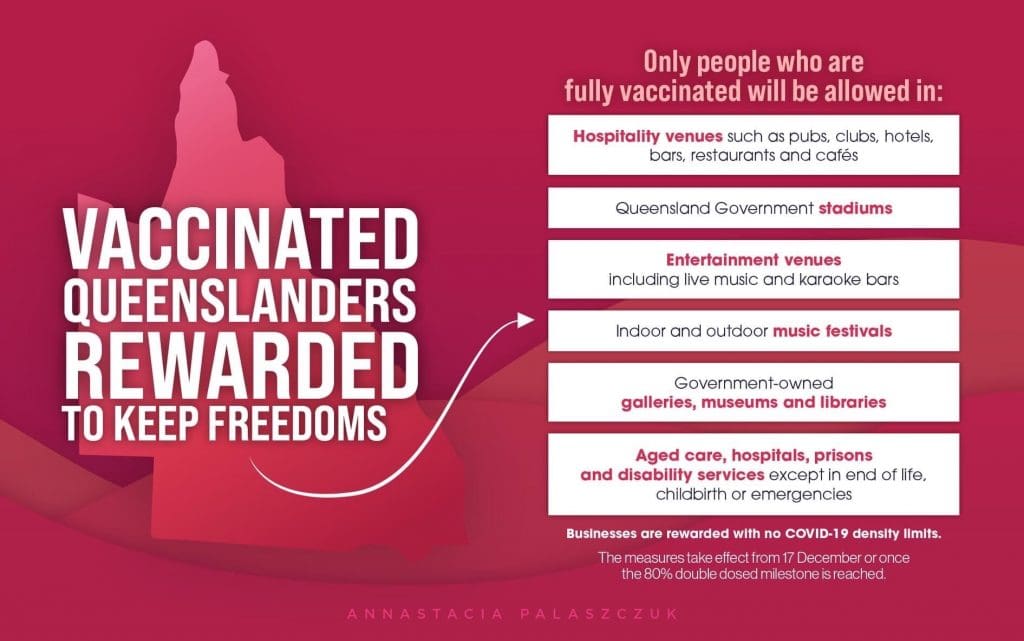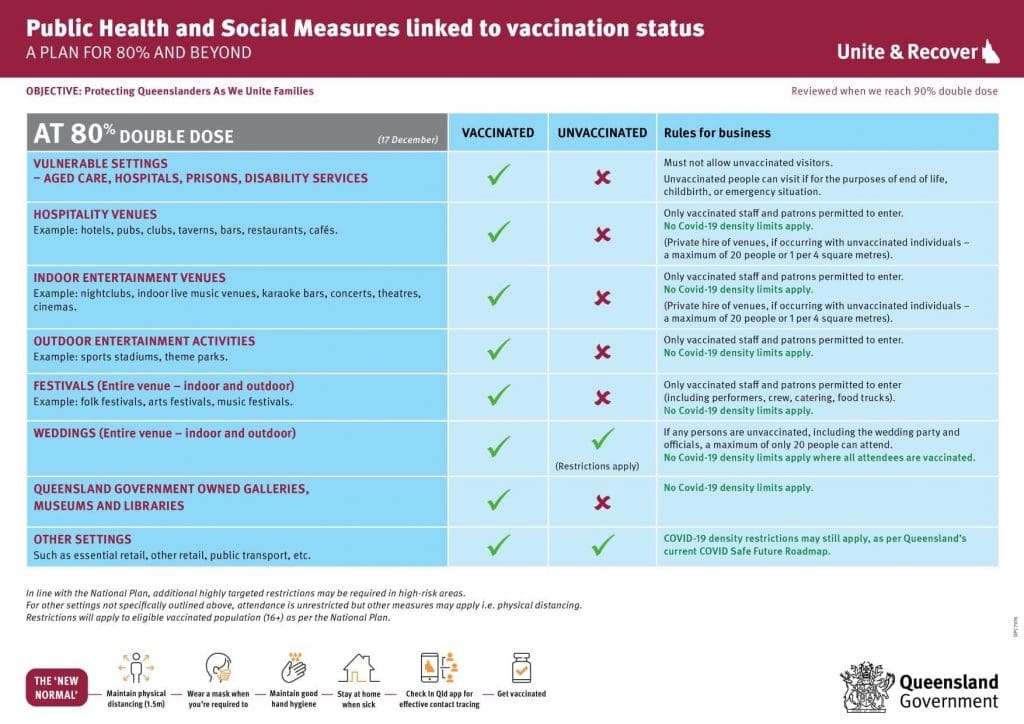 Today, the Queensland Government finally announced the COVID Safe Future Roadmap for Queensland.
The key date is Friday 17 December.
Please click here to read -restrictions for information about Live Music Show compliance.
Under the Queensland COVID 19 Vaccine Plan it states the following:
"Fully vaccinated – Two weeks since your second dose of an approved COVID-19 vaccine. People who cannot be vaccinated—for example those who are not eligible due to age or have an exemption from a qualified medical practitioner—will be treated as vaccinated for the purposes of entry and quarantine requirements."
There is no clarity on Medical Exemptions from QHA, Clubs Queensland, Arts Qld or Q Music to date. Our discussions with Qld Health are clear that as Venues update their In House Risk Management Plans, they certainly have the capacity to accept and incorporate a Medical Exemption from an Artist under the Queensland COVID 19 Vaccine Plan in accordance with the present COVID GIG SAFE Policy. 
For further clarification, please click here to read as it states:
What if I can't get a vaccination for medical reasons? Can I still attend some of these restricted venues and activities?

There are people who have genuine reasons for not being vaccinated.

We are currently working through the details of the arrangements that will apply in those circumstances, including what special arrangements would need to be made to accommodate these people in in specific settings (i.e. cafes, vulnerable settings).
If I am exempt from receiving a vaccination, what proof do I need to show?

You will need to be able to verify, if required, that you are exempt from vaccination due to a medical contraindication.

Please make sure you communicate with your booker if you have any questions at all.
Stay connected with us in the Music Means Business Groups
 as we will be releasing information in this regard regularly for your reference.
DISCLAIMER: We are providing you with all the information that we have been provided by Queensland Health.