When you look at the data, (1) women in the Australian Music Industry are still facing shocking statistics in terms of Workplace and Sexual Harassment. Click Here They continue to be underrepresented in festival appearances, live shows, radio airplay and award nominations. (2) Click Here The gender inequity is demonstrated in senior industry leadership roles, peak body representation and clearly showing an earnings gap between men and women. (3) Click Here
Working at the coal face of the industry for the past 31 years as the CEO for The Pushworth Group, we have collated a large packet of data in this regard and through the tracking of the data patterns have developed a methodology called The Vector™ specifically designed to address the many blind spots experienced by women in the music industry.
Mark Twain said "History doesn't repeat. It rhymes." We owe it to future generations in this industry to transform the patterns in the experiences for women in the music industry.
The project, WOMEN WITH SOMETHING TO SAY, is a first step.
The program will offer a place to six Australian female music artists over a 12-week period. In weekly zoom classes, one on one meetings, podcast interviews and program exercises, each participant will be facilitated through the program towards the objective to:
1.Develop processes and strategies for issues such as:
Dealing with sexual harassment on and off stage and on line
Dealing with a stalker on and off stage and on line
Dealing with Workplace Health and Safety on and off stage and on line
Maintaining a healthy relationship while performing
Managing female health while performing
Dealing with gender equality in the industry
Dealing with general industry under representation
Dealing with gender bias in specific markets
2.Strengthen business collateral, assets and systems:
Personal Development
Career Navigation
Leadership Pathways
Professional Development
Decision Making
Governance
Commercial Engagement
3.Empower Artists to identify, express and curate the all-important Artist Story
Establish the Vision, Purpose, Mission
Leverage into Products
Share their story to raise awareness of the unique challenges experienced by women in the Australian Music Industry in a series of Podcasts, Interviews, Blogs and Conversations
4.Build a framework around a Tour and Release plan for 2022 and 2023
Tour Plan
Release Plan
Brand Review and Plan
Business Plan
Media Training
Social Media Plan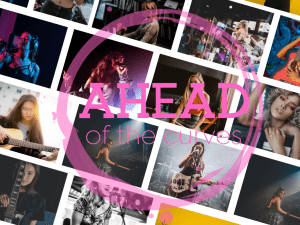 The Pushworth Supportive Framework
The Pushworth Group is booking a series of Tours – PINK VINES – throughout Australia in 2022 and 2023 to support the participants in this program.
Ahead of the Curves is the Podcast pathway as part of the program Media Training and Collateral Building processes.
The Manick Label will be featuring all participants and their music in its Spotify Playlist Women With Something to Say