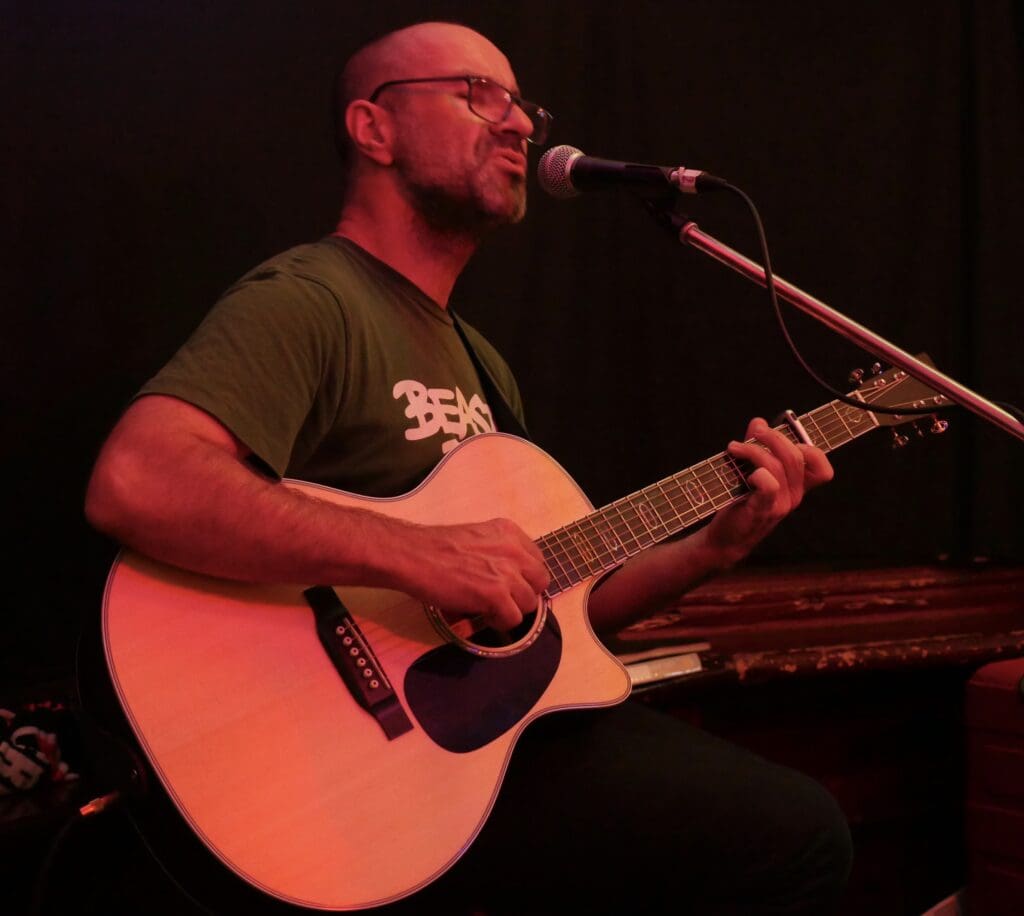 Dave Power is a singer/guitarist who lives on the Far North Coast of NSW and has been playing since the age of 14. He has performed in a variety of different arenas – from pubs, clubs and festival stages in Australia, the US , and the UK, to poetry, prose and music with Jeremy Irons and Neve Campbell at Wandsworth Prison.

Dave was a long-standing member of the Australian ska punk band The Porkers and was involved in song writing, arranging, recordings and performances since the early 90's. He has toured extensively, most memorably, on the Vans Warped Tour in Australia and the U.S, playing alongside various bands/artists including Suicidal Tendencies, Eminem, Pennywise, Ice T, Blink 182 and the Black Eyed Peas, as well as doing the Soundwave Tour 2014 with bands like Green Day and Living Colour to name a few.

Dave has worked on recording projects with bands such as On Inc, Cranky and Belle Diva, as well as composing and recording commercials for Royal Elastics and Fab Art. Some of his tracks with the band Bored of Education were used for the Digital Snowboard Magazine DVDs, Tracks magazine DVDs and the TV program Cactus Garden.

Still in the visual world, he composed the soundtrack and also acted in the short film The Winnie Blues (2002) as well as being the voice of Biff in the highly entertaining Meatheads cartoons produced by Tuk Tuk Productions.

In 2013, Dave recorded a solo album An Explainable Level consisting of songs he had written over the previous 20 years, covering a vast range of styles and influences.

Dave has also been doing covers gigs all his musical life and from 2003-2019, he played regularly at pubs in and around the Sydney CBD with residencies at a number of venues in the Rocks area.

Dave has recently joined up with the Sundogs, performing gigs around Sydney, Newcastle and the South Coast, supporting Spy vs Spy on number of occasions.

Dave delivers a variety packed solo show covering a range of styles from blues and folk, to rock and pop, including such artists as Bob Dylan, Tom Waits, Leonard Cohen, Bad Religion, Warumpi Band, Billy Bragg, Wilco, Tame Impala, The Reubens, Milky Chance, Red Hot Chilli Peppers, and Paul Kelly as well as original material thrown into the mix.