Terrina Lowe – Lead Vocalist
Terrina has been a professional singer and musician for most of her life, travelling everywhere and entertaining audiences young and old. Her extensive repertoire and love for all styles of music has enabled her to work in a variety of different venues and corporate events. As well as being an accomplished singer and entertainer, Terrina has the natural ability to mimic many of her favourite artists including Stevie Nicks, Karen Carpenter and Eva Cassidy, although when the opportunity arises, she loves to belt out some AC/DC or Suzie Q to get the crowd going. Also an experienced ballroom dancer, Terrina has an understanding of tempos and dance styles and finds this experience has a huge advantage when choosing songs to keep the dance floor pumping all night. Terrina also adds a touch of flute, some bluesy harp and killer percussion to compliment the amazing talents of Paul Desmond on sax, vocals and congas.
Paul Desmond – Saxaphone
Paul's long standing musical career first began at the age of ten. It was the clarinet which first inspired him, followed by the baritone sax, flute, alto, tenor and soprano saxophones, all of which gave him the experience and opportunity to work in the "Brisbane Big Band", "Glenn Miller Tribute Band" and "Swing Fever Big Band".
With a love and passion for music,he knew that he'd found what he would later pursue as a career.
Professionally, Paul has performed in various bands and duos over the years as a freelance vocalist and musician, while also maintaining a very successful solo career in the corporate market.
Now an accomplished entertainer, Paul intuitively knows how to take his audience on a magnificent musical journey of discovery and times passed. His knowledge and experience only compliments his natural talent. Studying all the great sax players throughout the years has certainly influenced his style and is evident in the light and shade both felt and heard in his playing, leaving his audience spellbound. Paul also brings another dynamic to the duo with live percussion, which adds a fantastic visual and rhythmic flavour to "FLOORBURNERS"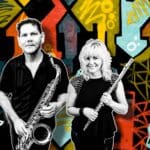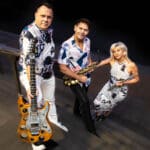 Format - DUO, TRIO or BAND