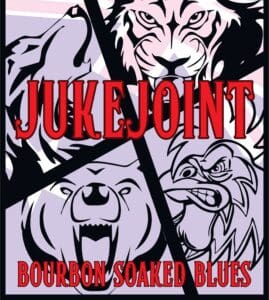 Southern blues in the style of ZZ Top, Black Crowes and Rolling Stones.
From the age of 12, Darren Griffis has been playing in coverbands, solo and duo shows all over Australia. He supported some of Australia's greats in blues including Lloyd Speigel, Lachy Doley and Geoff Achison. This culminated in Darren producing the Back in Blue Album in 2016 (an album of Australia's best blues act covering AC/DC) In 2019 Darren formed the 4 piece band – JUKEJOINT.
JUKEJOINT is a rocking 4 piece blues band who love smashing out their own brand of bourbon soaked blues. Over the past 18 months the band has been rocking venues from Cairns to Gold Coast, including festivals such as Gympie Muster, Minden Music Festival and Wolvi Stomp. 
In 2023 the boys have released 2 songs. Swivel Neck Boy & I Liked You Betta. Both have had radio play throughout Australia and support from ABC radio.
The band JUKEJOINT is Mark Braggins on drums, Gary Graham on bass and harmonica, Roy Bentham on lead guitar and Darren on rhythm guitar and vocals. The band can work in several different formats, as a 5 piece with keys and as a 7 piece with backup singers. JUKEJOINT are building a reputation as a band that puts on a show. Every night they are on a quest to turn every venue they play into their own personal JUKEJOINT.