2 Kingsford-Smith Drive, Breakfast Creek QLD 4010

07 3262 5988

https://www.breakfastcreekhotel.com/

https://www.facebook.com/BreakfastCreekHotelQLD
Power: GPO'S

Doors Open: From 10am

Playing Area: 4m x 3m Approx.

Set Up: 60 mins prior to showtime

Access Time: From 10am

Upon Arrival Check in with Duty Manager for Induction and Brief

Sound Check: 60 mins prior to start time

There are VOLUME RESTRICTIONS. The low volume doesn't mean laidback. If asked to turn down, please do so in a courteous and immediate manner.

Dressing Room: Use Public Amenities

Load Out: Directly Upon Completion

Gear Access: Via Front Of Venue. Refer To Manager Upon Arrival – Refer To Leaflet At Venue If Unsure How To Connect The In House System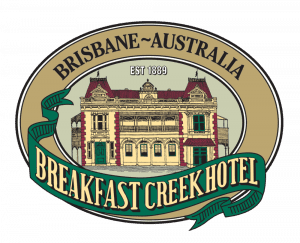 Production: Act To Supply Production, Lighting, Suitable Break Music. No Drums Permitted

Act To Connect Into The In House Pa System Via Xlr. Act To Supply Own Mixer And Foldback (essential) + Lights + Break Music. Smart Casual Attire. Sets To Be Up Tempo And Engaging. No Drums Permitted

UPON ARRIVIAL PLEASE REPORT TO THE DUTY MANAGER OR BAR STAFF AND ASK THEM TO BRING OUT THE PA SYSTEM FOR YOU. ONCE THE PA IS IN PLACE, POWER + CONNECTION TO THE FOH CAN BE FOUND IN THE SQUARE TRAPDOOR ON THE STAGE – PLEASE HAVE EXTENSION LEADS + POWERBOARDS + 2 SPARE XLR LEADS SET UP YOUR DESK AND FOLDBACK AND BACKLINE AS PER NORMAL(THIS IS NOT SUPPLIED BY THE VENUE) TURN ON POWER AMPS – ENSURE ALL LEVELS ARE SET TO A MINIMUM WHILE YOU CONNECT SPEAKERS UP CONNECT THE SPEAKON LEAD(x) TO THE POWER AMP AND THEN RUN THE LEAD TO THE FOH SPEAKERS (X)

This is a PARTY VENUE. Therefore your set plan must be designed to keep the audience in party mode at all times.

Start Time: This means you need to have all your gear set up with break music playing by no later than 7.30pm.

Each artist needs to be flexible and be professional and work WITH whatever the venue needs.

Start the night with up-tempo song selections. The low volume doesn't mean laidback. Always keep the entertainment of the audience foremost in your set plan.

Produce specific Party Break music to ensure that the atmosphere continues even when you are off stage. Your job as the Artist is to keep the audience partying and well entertained.