105 Memorial Avenue, Maroochydore QLD 4558

07 5443 2211

https://maroochyrsl.com.au/

https://www.facebook.com/rslmaroochy
Power: GPO's

Doors Open: Staff are there from 8am (for Morning Shows). All other shows anytime from 10am

Stage Area: 4m x 3m

Set Up: To be complete 30 minutes prior to Start Time

Upon arrival, introduce yourself to the Customer Service Manager who will show you where to load in at the Memorial Avenue Entrance where it meets first Avenue at the Staff Entry Doors.

Load In: Load in up 4 Steps.There is an alternative entrance further up Memorial Avenue that is ramped if you need it. Drive the car into the circular driveway and load in there.

Sound Check: To be complete 30 minutes prior to Start Time

Db Limit: There is a Db Limiter – 98 Db.

Load Out: Directly upon completion of show

Dressing Room: There is a small storage space beside the stage.

List Item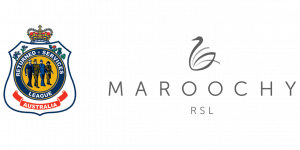 In House Production: Refer to In House Specs. No amps on stage. Everything is DI. Electronic Drums Only. We recommend you use your own In Ear Foldback Monitors.

Artist Supply: Own Instruments, Backline, Desk, Leads and additional lights if you need

Break Music: Provide Break Music to suit the style of event and the specific show.

Hospitality: Soft Drinks and Water

SOUND SYSTEM INSTRUCTIONS
Telephone 1300 884 200 Connect Multimedia
Overview: How to plug into the sound system The sound system has been designed to minimise sound leaving the entertainment area into adjacent areas of the club. CMM have used several technics to achieve this and we have calibrated the sound system to allow easy connection into the sound system by performers and bands. Performers connecting to the system require a professional sound mixer with balanced line level (+4dBm) outputs. Microphones cannot be plugged directly into the sound system. You must bring your own mixer (example pictured right) and provide a pre-mixed sound signal into the sound system via the XLR inputs on the rear wall of the stage area. There is outboard equipment located in a rack nearby that is set and carefully calibrated. This equipment is not to be touched or adjusted under any circumstances. Heavy penalties may apply if the equipment is adjusted from its calibrated settings. As an example, the back of this mixer (pictured below) has the correct outputs marked, +4dBm XLRs. RCA (phono) outputs from a mixer are not suitable to plug into the sound system via the in-house stage inputs. They are unbalanced and lower volume than the XLR outputs.