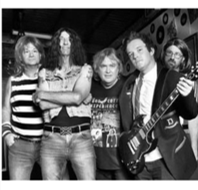 The Bon Scott Experience was established in 2016. The show pays tribute to legend of-Bon Scott era of AC/DC.
The band performs all AC/DC's greatest hits from 1974 to 1979 including;
Long Way to the Top, Dirty Deeds, TNT, High Voltage, Highway to hell, and many more AC/DC classics that fans know and love.
From its inception-The Bon Scott experience strived in its pursuit of recreating the authentic AC/DC look and sound. No stone would remain unturned!
The band quickly set about amassing an arsenal of genuine 1970's equipment, and building replica instruments. "All to AC/DC specifications"
With that AC/DC authenticity in mind, the band turned its hand to designing and creating an AC/DC stage show that is second to none.
Complete with a treasure-trove of replica costuming and stage props- "As seen in the AC/DC video clips"
The Bon Scott experience isn't just another AC/DC tribute. The show is dedicated to recreating the authentic AC/DC look and sound of 1970's.
So much so, the band is endorsed by members of the Young Family themselves.
The Bon Scott Experience deliver a high energy 2-hour show (2 x 1 hour sets + encore)-that is an Audio/visual extravaganza, that needs to be experienced to be believed!
So come along and join us on the highway to hell, as The Bon Scott Experience takes you on a musical journey through the AC/DC high voltage platinum hits!!!